Welcome to STACK Digital
Industry
expertise

,
powerful

results

.

We understand what it takes to help financial professionals and RIAs grow, because that's what we've been doing for more than a decade. Combining brand building with performance marketing, strategy with execution, and a technology-based ecosystem to bring it all together.
Avoid the sameness trap.
You understand the importance of standing out from the crowd. And you know it can be easy to blend in and get lost in a sea of sameness. Creating a unique identity that reflects your values, strengths, and expertise will help you stand out and grow the way you want to grow, and help you avoid the sameness trap. Get started with a brand evaluation. Don't worry, it's free.
of consumers develop unwavering loyalty to brands that share their values.
recall a brand after viewing branded content over generic ads
feel better about a brand after reading customized content
Will use more services from a trusted brand one they don't know
More leads means more growth.
They're right there! Really, they're right there!
Getting them from there, to where you are is what we do. More qualified traffic is all about getting to know your ideal client, so you can hang out where they hang out, and give them what they need when they need it.
Here's how we do it.
You've heard of the funnel. So have we and that's not us. We look at your practice like a flywheel. The flywheel helps us make informed decisions, and adjust your strategy no matter where they are in their journey.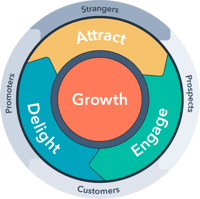 Attract
Advertising
Video
Blogs
Social media
Content strategy
Engage
Lead flows
Email marketing
Lead management
Conversational bots
Marketing automation
Delight
Smart content
Email marketing
Attribution reporting
We are passionate about helping you
ACHIEVE your goals

, so you can

ACHIEVE your client's goals
Rev up the revenue engine.
Your growth depends on scalable operations, unified data and an optimized tech stack. We align people, processes and platforms to your unique case and amplify the impact of your tech stack.
Unique solutions built for you!
Growth is no longer a funnel—it's a flywheel. The flywheel consists of acquiring customers, engaging them, and then delighting them to restart the cycle. Like all wheels though, friction exists at every contact point that can hinder the flywheel from spinning efficiently. Friction hinders your growth.
Revenue Operations is the inner ring of that flywheel, reducing friction and providing the lubrication to make sure the three big areas of your business - sales, marketing, and service - are moving smoothly, accelerating your growth flywheel and letting nothing stand in your way. Putting the metaphor aside, Revenue Operations is the combining and aligning of revenue goals throughout marketing, sales, and success teams within a business.
How we approach revops
Data-driven insights
By analyzing customer data, trends, and customer feedback, a good RevOps Manager can develop strategies that will help boost customer acquisition and retention rates.
Revenue optimization
iIdentify cost savings within the system, such as reducing wasted resources or improving operational efficiency.
Scalable personalization
Automate personalization efforts without sacrificing content quality or losing the brand's voice.
Strategic planning and execution
Identify goals and create plans to help you reach them quickly and efficiently while staying within budget constraints.